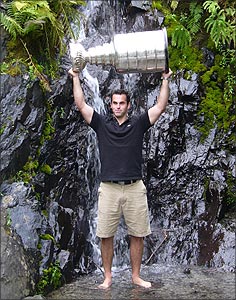 Ladd came to the blackhawks at the trade deadline last year for Tuomo Ruutu. The trade actually seemed to work for both teams since both players upped their numbers. In 43 games with the Hurricanes last season Ladd had 18 points, in just 20 with the Hawks he had 12.
The Ladd/Ruutu trade really just seemed to be one of the trades GMs make just because they want to do something. Both players were underperforming and were of pretty equal talent level and they brought a very physical game on the ice. Ladd doesn't hit people quite as often as Ruutu does but is still very capable of laying someone out.
Although Ladd has only played in 3 seasons, he's one of the few Hawks who have won the cup. Normally you'd think that someone who has thier name of the cup could provide a lot of leadership for the young team - but Ladd himself is only 22 and played very few games with the Hurricanes team that won the cup in '06.
Ladd will proably up his point total some more this year but not by much. He's actually scored more every year he's played, so there's still hope for him to live up to his first round pick potential. Right now though, he'll probably play on the third line and be pretty decent there.